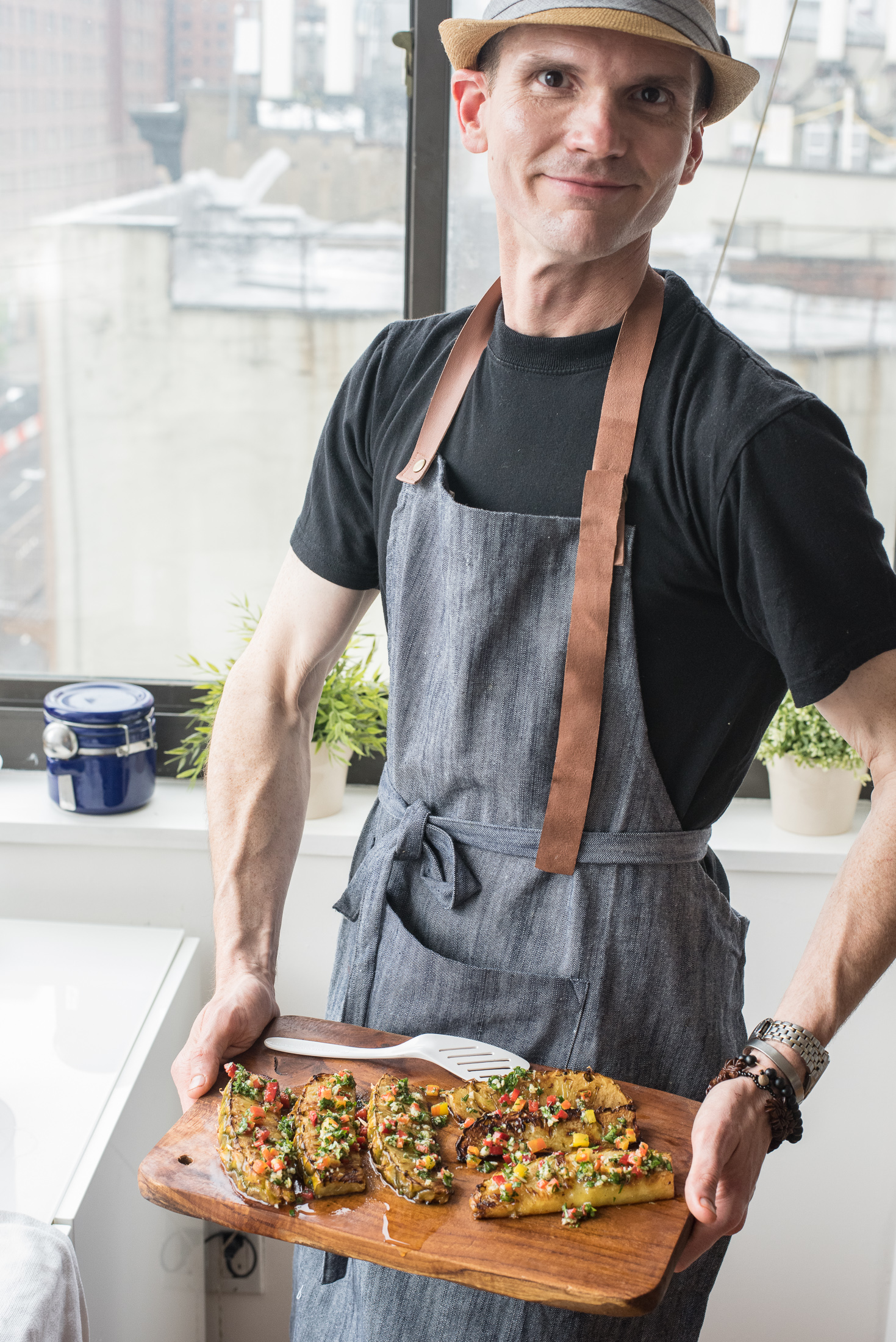 Years of binge eating, then losing weight, and then falling into the culinary food had me drowning in everyone' else's idea of food, cooking and eating. My life changed when I realized I could make my own. So can yours.
Russ Lane is a cook and author focused on expanding the boundaries of "healthy eating" and weight maintenance. His mission: to make sure health living has some actual life, combating the some of the grimmest life experiences with depth, irreverence and one hell of mostarda recipe.
Originally a 350-pound music critic graduating from the University of North Carolina at Chapel Hill, Russ lost 200 pounds while thrown into the world of high-end dining food writing full-time. He hit his weight goal despite being in eight restaurants a day and the gym all night, while also blindsided by three deaths, leaving his past behind to start from scratch, all while contending with all the aftershocks of lifelong obesity, bullying and abuse. There were many times the world had written him off. Through it all, his spirit and belief in working for a better life for all of us wasn't quelled, not only beating the odds, but doing so spectacularly.
In speaking on the experience, Russ is unflinchingly candid about the realities and attitudes surrounding obesity — and just as irreverently defiant of them. Ambivalent about how people lost weight, Russ instead looks at the nuances of what makes life after obesity so challenging and hard for most dieters to sustain, and develop creative, practical ways to fight back against them.
As he began writing, cooking and lecturing on weight-loss issues, and as others began asking Russ to teach what he learned, he found his skillset was the missing ingredient in many's obesity management strategy. His student's own creativity blossomed while also stopping suicides, helped break decades-long bouts of celibacy, and improved medical conditions and weight measurements by working in tandem with existing professionals, research scientists, and the diet industry. That his students lost and/or kept off 100s of pounds even after three years of working with him (the sweet spot in keeping-of-weight statistics) was just a bonus.
Russ or his food has appeared on the Today Show, People Magazine and been one of the few guest lecturers at long-running diet facility The Structure House, and the only without a formal scientific or culinary degree. He trained with some of the most creative chefs in New Orleans and has cooked for the Broadway community in New York and those wanting to beat the odds and break vicious cycles as he did.
He draws equally from food history, neuroscience, the latest scientific evidence available in nutrition and obesity, and with a dash of the no-nonsense Southern wisdom of his upbringing in the Carolinas, and then New Orleans. Both high-end research and low-spun folk wisdom combine to support those who might have won the battle of weight loss only to discover another battle in front of them: moving forward after it.